Which is precisely the first Aston Martin "Vantage"?


The "Vantage" name has been used by Aston Martin to denote a more powerful variant option.
The first model available as a Vantage was the DB2. The word appeared in the 1951 brochure but there are 1950 DB2 Vantages. Of course, those are "washboard" cars (please see my washboard register).

The "vantage" name is reported to have been found in a ... v

I

ntage thesaurus and was chosen among a list of different words. Its meaning of "advantage" is especially nice for a more powerful car!
It is to be noted that the word has been used ever since (please see this site for more information about Vantage Astons). Also of interest are names such as "Volante" or "Virage" that may have been chosen because they were akin to "Vantage".

Now, back to the question: which is

exactly

the first Aston Martin DB2 Vantage to have been produced?

Up to this moment, everybody has had this answer: LML/50/19 because it has the lowest chassis number of all the Vantage DB2s.


In fact, among Washboards DB2s, only three are DB2 Vantages: LML/50/19, LML/50/21 and LML/50/51.

Concerning LML/50/51, I am not definitely sure as it may have been updated later ; I'll have to further investigate...
"DB2 Vantage" means a DB2 with a Vantage engine from day one. Many have been "vantagised" as well as many were converted from column to center gear change.



Let's consider together what is known and documents sent by

Marc

plus discussion with

Roo

(you must know his fantastic

V8Vantage

website)...

First of all, Briggs Cunningham got LML/50/14 on 27 October 1950. I found nothing about this car running a race.

Later, Cunningham and friend Spear each ordered a DB2 with then newly available " Vantage specs " with racing thoughts. Indeed, both appeared at Sebring on 31 December 1950 along with LML/50/13 as can be seen below (

Road & Track

photo):





Here are the two build sheets:

For LML/50/19: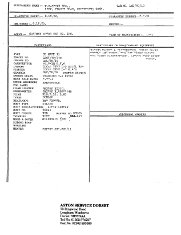 and for LML/50/21:


First of all, you can see a 1951 year of manufacture which is quite surprising!


To summarise, here are all dates to be found as they are written on the build sheets:


| | LML/50/19 | LML/50/21 |
| --- | --- | --- |
| " Delivered " | 8.12.50 | 12.8.50 |
| " Guarantee issued " | 8.12.50 | 12.8.50 |
| " Guarantee expires " | 7.3.51 | 11.11.50 |

So date of guarantee was made along with delivery date and it expired 3 months later. One day before three months to be precise!

You could conclude that LML/50/21 was built before LML/50/19 but ...

Yes, there is a " BUT "...

That would mean LML/50/21 was delivered to Cunningham in August. That's before his own LML/50/14 which was delivered in October.
August seems unlikely then...


Furthermore, it's very surprising to see " 8.12 " and " 12.8 "
You know, I have always been cautious with date format because in France, we always write " day / month / year " whereas both " month / day / year " and " day / month / year " can be found in English language documents depending in which country it was written : United Kingdom or USA.
Sometimes you can see both format in American documents ; it all depends whether they are written or abbreviated!
And LML/50/19 and LML/50/21 went to the USA ...


So, maybe, there is an error in the build sheet of LML/50/21. Maybe...

Of course that may have happened and reading other build sheets, I found something weird for LML/50/26 for instance.
Look at the guarantee dates: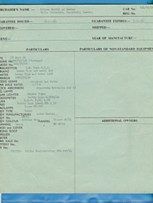 It was issued on "10.11.50" and expires on "9.11.50. The day before!
By the way, I had not seen it before!


Coming back to LML/50/19 and LML/50/21, you must also remember that it has long been recorded both cars were ordered at the same time by two friends.

What is clear when looking at numbers is that they were build together. Let's have a look:


Chassis numbers

LML/50/19

LML/50/21

Body numbers

68011

68012

Engine numbers

LB6V/50/240

LB6V/50/238
Gearbox numbers

DBC/50/38
centre change
(hence DBCC,
see this page)

DBCC/50/40


Numbers are so close!


Let's also see the master register: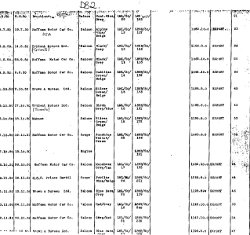 There are two columns with dates but I don't know what they are exactly...


| | first date | second date |
| --- | --- | --- |
| LML/50/19 | 3.11.50 | 24.11.50 |
| LML/50/21 | 2.11.50 | 24.11.50 |

At first, cars appears as listed in no logical order but when looking twice they are listed following the second date.
But this second date appears to be the same for both LML/50/19 and LML/50/21.
And LML/50/19 is listed before LML/50/21 even if reading the first date, it is the other way round!

Of interest, here are the similar dates for LML/50/14 :


| | first date | second date |
| --- | --- | --- |
| LML/50/14 | 8.9.50 | 9.9.50 |

One of those two dates

might

be the shipping date which was left blank on the build sheet...

As a conclusion,

I cannot really tell you

which one is the first Aston Martin Vantage ever produced ...


My guess

is that, both LML/50/19 and LML/50/21 were ordered, built and delivered

together

.
Of course, concerning LML/50/19, both chassis and body numbers are lower ...
Of course, concerning LML/50/21, there is a lower date in the master register ...
It's up to you to choose!


More information about each car, see their page in the Washboard Register: LML/50/19 and LML/50/21.


Aston Martin Scrapbook
http://astonuts.free.fr



BACK