THE WASHBOARD DB2s REGISTER
i.e. THE EARLIEST DB2s



I have always been fond of the Aston Martin DB2 and when I discovered the first ones, I remembered being impressed. You can recognise them by their three pieces grille and their side outlets. Those peculiarities were dropped with chassis LML/50/52.
To state Frank FEELEY, responsible of the DB2 design in AM Magazine summer 1984 (vol.21 number 88):
Anyway, eventually we tidied up the DB2 and got it into production by which time quite a few changes had been made. For example we had these outlet grilles on each sides of the bonnet behind the front wheels. But Lawrence POMMEROY of "The Motor" said to David BROWN that they were awful and looked like

washboards

. He had a lot of influence with him and persuaded David BROWN to do away with them. So we had to drop them but I personally always thought they looked rather nice, and I was rather upset when they were done away with.


Another change we made later was to the grille which started off as a three-piece design. This change came about through James WATT who said can't we save some cost by making it one piece. So I redesigned it to the shape which has become almost a trade mark. The grille itself was made of horizontal slots on a very light frame which was just pushed up behind the panelwork to fill the big "window". I don't really think it was an improvement but we had to save costs somewhere. I preferred the first design actually.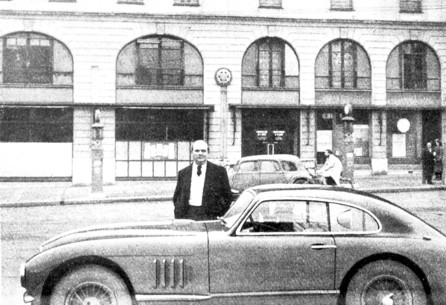 Laurence Pomeroy behind LML/49/4
(Please note at the back a very rare French "Citroën Traction familiale" with symmetric doors only produced from 1934 to 1936...)





Thus The Washboard DB2s Register will try to gather information about those earliest DB2s... at least present them all.




PLEASE DO NOT HESITATE TO SEND CONTIBUTIONS !





Aston Martin Scrapbook
http://astonuts.free.fr


BACK