LML/50/6



NO PHOTO YET...



PLEASE DO NOT HESITATE TO SEND CONTRIBUTIONS !



Engine number:
LB6/49/80 in AMOC Registers from 1956 up to 1967.
Not listed in 1971.
LB6/50/50 from 1988 on.

Even if LML/50/6 is a special Show Car prepared for the official launch of the DB2, it had already all the features of the production cars. Thus it can be considered as the first production DB2.

Nevertheless, I don't know if it featured the air scoop on the bonnet as this was not put on LML/50/5, LML/50/7, LML/50/8, LML/50/9 and LML/50/10 when they were built. This was a later retro fittment.

Painted scarlett, it was shipped ou to New York on 20 March 1950 for the New York Motor Show of April 15th - 23rd.
Price tag was $5,000. That was a sum when compared to other cars...
In

Thoroughbred & Classic Cars

, August 1993, the show is described as

the British Automobile and Motorcycle Show

.

The whereabouts of this car are not very well known.
Story goes that "a kid in St Louis" bought it in 1969 and sold it when he got divorce somewhere in 1974.
The next owner kept the car in Missouri for 17 years whithout using it !
In 1991, the car was found by its current owner (who is also the happy curator of LML/50/22 !) who told: "... it has been sitting in a nice dry barn out of the elements. The colour is now white with black vinyl interior. It still has right-hand drive but none of the original gauges or wood dashboard remain."

I must confess I am quite puzzled by the fact that the car still has RHD as I read in

AM Magazine

(vol 26 n°112) it had been built with LHD for the American market.
Remember the dashboard layout permitted easily to put the steering column (and wheel !) one side or the other with few alterations.

Furthermore, I remember the delivery note of LML/50/344 (The King Hussein's DB2) which reads: 'Left Hand Drive, U.S.A. Special'.

Nevertheless, every single early production car in the LML/50/tens are RHD even when sold at Americans...

Recently, fellow

Astonhill

found me a photo on the Lagonda Website (a top site by the way...) in this page. I had not yet all read...
There are also some fantastic photos of Lagonda prototypes and Aston Martin Lagonda works van on this page!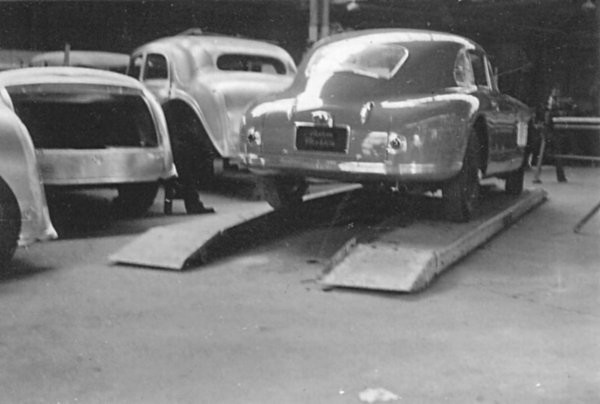 But still impossible to know:
- whether there is an aircoop on the bonnet or not
- which side is the steering wheel !

Aston Martin Scrapbook
http://astonuts.free.fr



BACK