LML/50/5 (VMG 606)





PLEASE DO NOT HESITATE TO SEND CONTRIBUTIONS !



Engine number: LB6/49/79. LB6A/50/211 fitted in late 1950.
Body number 68001 (first "true" DB2).
Blue with grey interior.


Like all DB2 before LML/50/11 (i.e. from LML/50/5 up to LML/50/10, as the previous one LMA/49/1 to LML/49/4 are DB Mark IIs), this car was built without airscoop on the bonnet (except maybe LML/50/6).

LML/50/5 was called " Experimental Prototype DB MkII " at the works.
It was built for the development of the LB6 engine (that had started on LML/49/3) and much more for trying bodywork ideas as this is the " first real DB2 " after the four previous " DB MkII ".
Once more, it is important to say that the name was not yet definitive: " Experimental Prototype DB MkII " and not yet " DB2 ". This will come later and then only the " 2 litre Sports " will be called " DB1 " retrospectively.


It has been said that LML/50/5 was originally fitted with 2L push rod engine, then used as test car for new 2.6L engine.
I find this much unlikely, to say the least. And for two reasons:
- firstly, the chassis number. Indeed LM

L

/50/5 means that the chassis was built receiving a 6 cylinder LB6 engine. With a 2 litre 4- cylinder engine, it should have been LM

A

/50/5. And in the works register it doesn't seem to have been so.
- secondly, it would not be logical. Indeed David Brown knew that the 4 cylinder was not enough and that the 6 cylinder was needed (he bought the Lagonda factory for that). The 6-cylinder had already been tried on LML/49/3 (and also on LML/49/4 for GT use).
Maybe, to be absolutely sure, we should check the chassis and look for different engine bolts...


Here are four photos of LML/50/5 in May 1950 at its public launch in front of the old airport hotel at Hanworth Air Park, Feltham.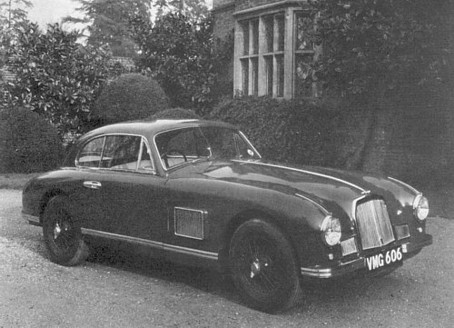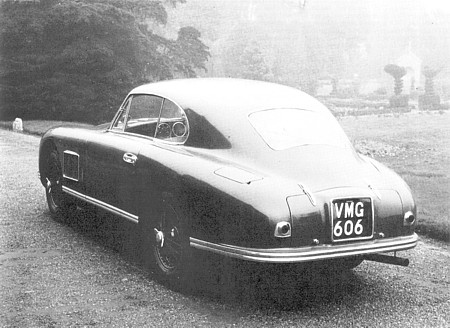 (Source: FRO) (Source:
AM Magazine
vol 21 no 88)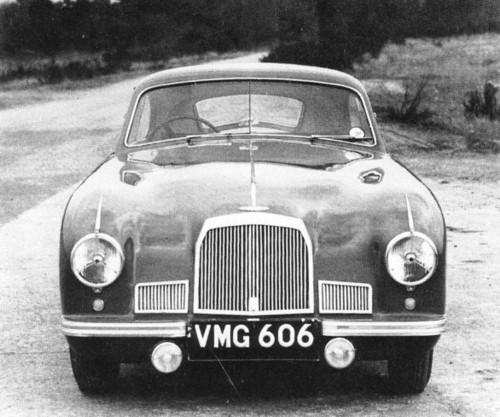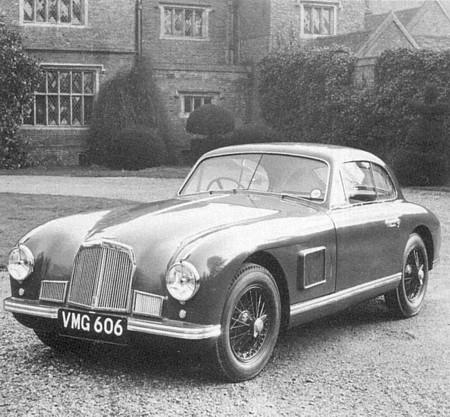 (Source:
AM Magazine
vol 21 no 88) (Source: TAM)
LML/50/5 appeared everywhere! In adverts: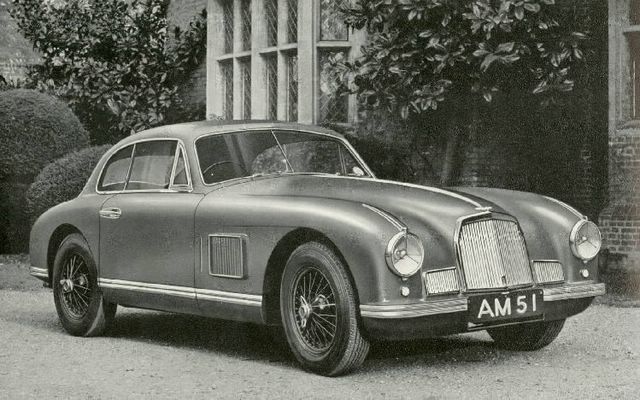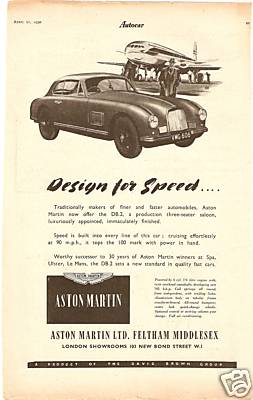 ... and in catalogues. I put two photos I have found on auction websites because I don't which is the correct hue of blue!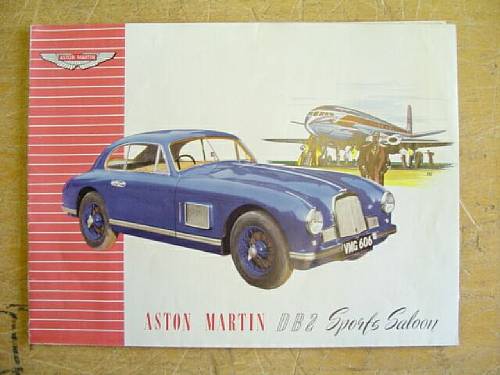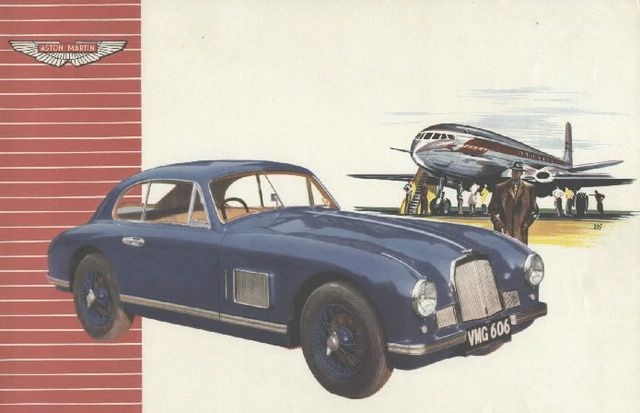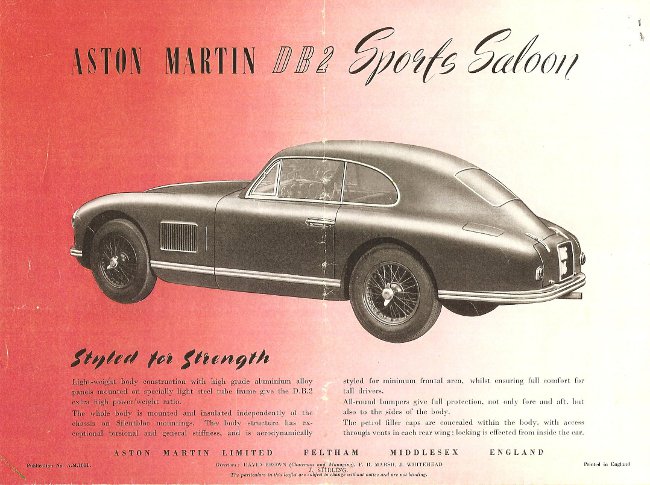 Thanks
Dom
for this ad.
Brooklands agent sold the car to David Emmet.
It was seen in several events:


1952 : B.D.C.Firle Hill Climb (Emmet), 1st in class
Lloyds M.C. Sprint Rally (Emmet), 1st in class
Alpine Rally (Godsall), crashed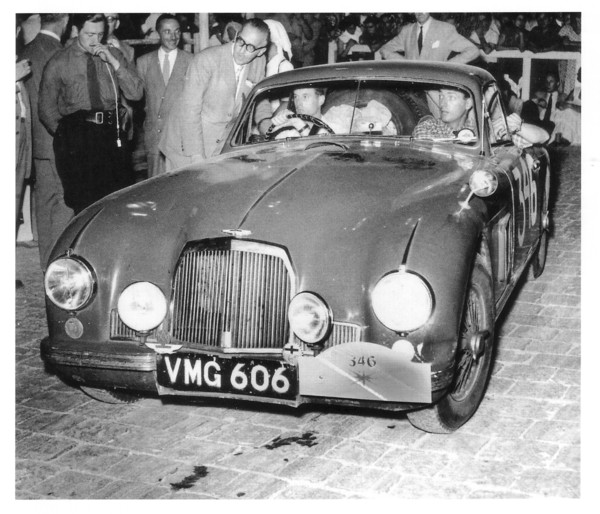 Godsall at the "
Coupe des Alpes
" (Alpine Rally)
Note the airscoop now fitted on the bonnet.
(Source: AMEC)
Here are some recent photos after a repaint in a kind of Cadillac green...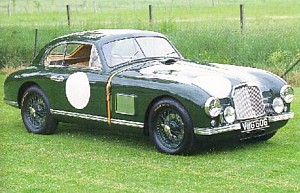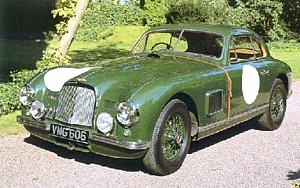 (Internet photos)




Aston Martin Scrapbook
http://astonuts.free.fr



BACK