LML/49/4

(UMC 272)





PLEASE DO NOT HESITATE TO SEND CONTRIBUTIONS !



Built at the same time than the first three Team cars for David Brown personal use. Later, he drove LML/50/10, the DHC prototype and DB3/2, a DB3 specially built for road use... After all, he owned the company !

At first, those four cars were known at Works as "Le Mans Fixed Head Coupes". A later record calls them "DB Mark II" and a log book issued in 1961, "Saloon".

Body number 48005.
Engine was LB6/49/27R. LB6/49/29 fitted in 1950.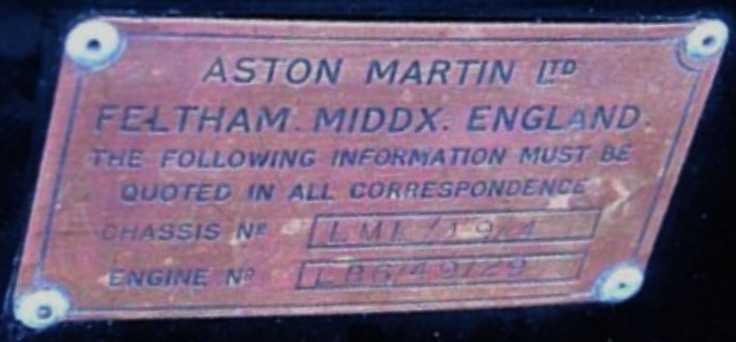 Very rare LB6 engine (on an Aston Martin of course, not on a Lagonda...)

Below left, a July 1949 ad and at right, a photo from when it was David Brown's car:




Inter-Europa Cup, Monza (Macklin), 2nd.
Targa Florio, Sicily (Macklin), crashed.
Described in

Motor

, February 1.


Goodwood.
1954 : Notts S.C.C. Ossington (J. Dalton), 1st overall.
1955 : Shenstone and Buxton rally (J. Dalton), 1st in Class.


1960s Many attempts to improve ventilation.
You must remember that LML/49/3, also equiped with a 6 cylinder was nicknamed " The Sweatbox ".
Body had suffered from those "improvements".
1965 - 1970 First rebuilt with body in Roman Purple.
Here are some 1965/1970 photos kindly sent by current owner of the car:




1977 - 1987 Second rebuilt.




3 May 1989 : Sold at auction by Christie's at Monaco.

Thanks to

Dom

, here are the photos and text from the catalogue:




Here is the history of this car as published in Summer 1989

AM Magazine

:


1991 : Further restoration by AML Service Dept.

1993 : Featured in

Automobile

for October.

The car now:



Those photos come from an article published in November 1993 in French magazine

Auto Rétro

n°159.
Here is the full article:


Two more photos from friend José:



UMC 272 was recently tested. Spotted by both

Aston67

of a French forum and José.

Click here of in PDF:






Current owner kindly sent me the following photos, taken at Stokepark:


I'd like to focus on a detail that is especially neat: the way the bonnet handles are "hidden" in the side strips.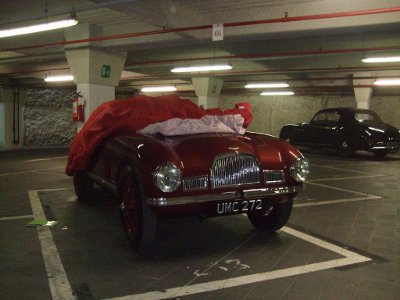 Aston Martin Scrapbook
http://astonuts.free.fr



BACK