LMA/49

/2 (UMC 65)





PLEASE DO NOT HESITATE TO SEND CONTRIBUTIONS !



The second of the three works cars built in 1949 known at Works as "Le Mans Fixed Head Coupes" (LML/49/4 is a road car built for David Brown using the same lines).
A later record calls them "DB Mark II" and a log book issued in 1961, "Saloon".

LMA/49/2 is the only survivor with the 2-litre 4 cylinder engine (as LMA/49/1 crashed).

Body number 48002.
Engine: original engine SPA4/49/2 tranferred to AMC/48/2 then SPA/49/9. Has also had EN4/49/28.
Registration: UMC 65.

1949 : Le Mans 24H (Jones / Haines) 7th overall. 3rd in class
1951 : Nottingham S.C.C. Gamston (Whitehouse) 3rd overall 60.5 m.p.h.
BRDC Silverstone (Whitehouse) 16th overall 69.07 m.p.h.
British Empire Trophy I.O.M. (Whitehouse) retired-clutch lap 22
Scottish S.C.C. Turnberry (Whitehouse) 1st in class
Waterloo & D.M.C Altcar Sprint (Whitehouse) 2nd in class
1954 : Tunbridge Wells M.C. Brands Hatch (Barrow) 1st in class
Circle CC Rally (Barrow) 1st in class award
AMOC Silverstone (Barrow) 1st in class award
Rushmoor Sprints (Barrow) 3rd
1957 : Chiltern C.C. Brands Hatch (Barrow) 1st in class
1971 : Le Mans Parade (Angell/Feather)


When being built: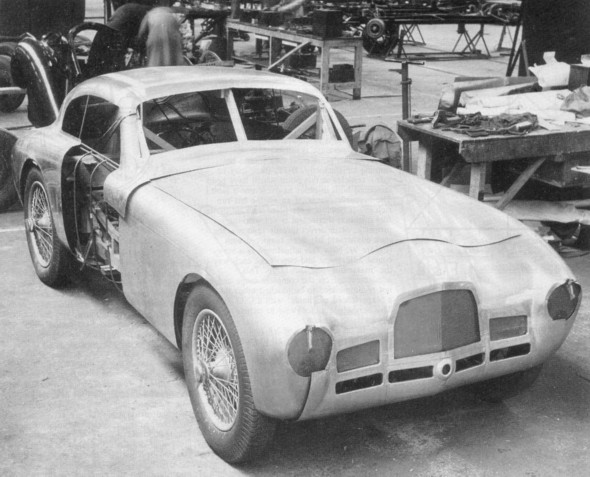 (Source
AM Magazine
v21 no 88)
(Source : RAC1)


The three DB MkII racers (LML/49/3, LMA/49/2 and LMA/49/1 in that order)
with Stapleton/Monkhouse Speed Model behind
en route
for 1949 Le Mans.
(Source : RAC1)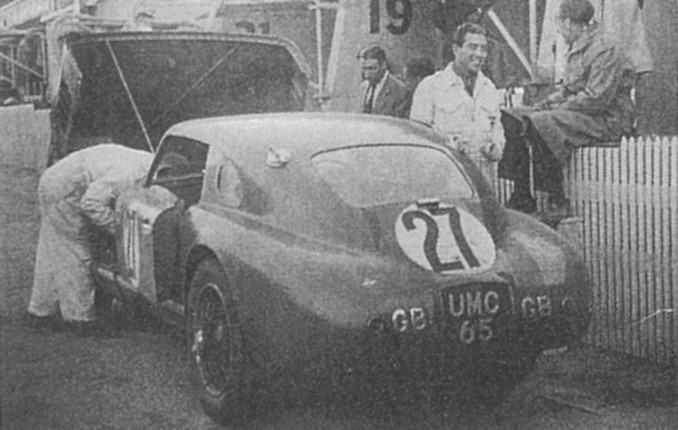 Le Mans. Photo sent by

Dom.




Once more, a fantastic Klemantaski photo... at the Huddersfield rally still with Spa numbers !

(Source : RAC2) (Source : 1996 AMOC Register)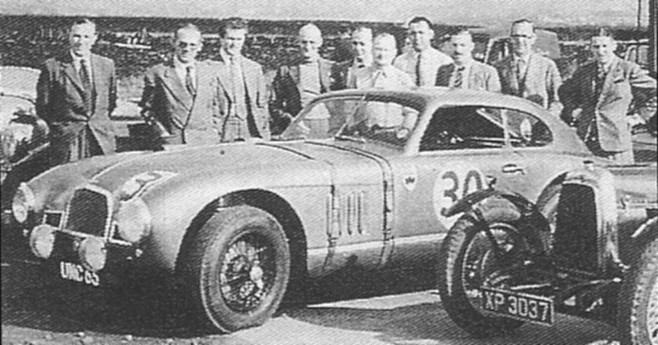 Whole crew. Photo sent by

Dom

.



Those two following photos are from a more recent period:



Now you see it ! (Source : FRO) ... Now you don't ! (Source : AM Magazine vol 25 no 111)

I mean the special exhaust !

LMA/49/2 had rarely been seen for ages even if it was more or less known of...

Friend Alex sent me two scans from magazines

Automobiles Classiques

(French text) and

Classic & Sportscar

(English text).

HOW COULD I MISS THAT!? The ultimate barnfind or what?

LMA/49/2 was found, was to be sold at auction on September 2002 and was finaly withdrawn...

Searching a little, a

Daily Telegraph

info:

Any news since?

Aston Martin Scrapbook
http://astonuts.free.fr



BACK