DB3 FHCs



Note : all photos are clickable to see them in a much larger size.
all photos have a 'source' given. Please have a look at my bibliography to decode.

There have been some DB3s with non standard bodies. That's quite suprising when you consider that only ten DB3s have been made and that this was a racer and half of them were works racers.
Nevertheless, these cars were produced at a time when you still could buy a chassis and have a body made to clothe it. Furthermore this was still something which sprang to mind to those used to buy fine cars. Early Ferraris for example (before 250s) were often clothed outside the works.

Chassis numbers are DB3/1 to DB3/10.
I won't tell you about the races they made. You can find this in many books and also on this link for example.
Success wasn't really great and for example, Lance Macklin was really disappointed when he first tested it. He thought the DB2 had good roadholding and that the DB3 didn't do better. In fact the DB3S was to bring much more success, on the track and commercially.




DB3/1



DB3/1 was a works car and had a standard body if such can we written...
But for the Le Mans in 1952 it received a hardtop to gain aerodynamically. As the DB3 was somewhat underpowered this was not really a success and top speed was not that better.
Nevertheless it was very beautiful as can be seen :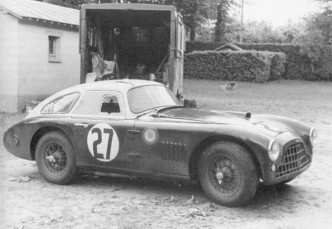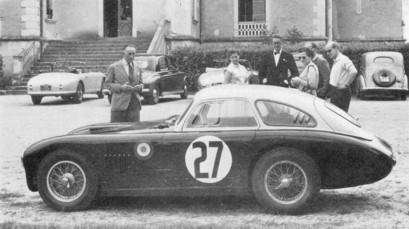 (source POST) (source FRO)

The right picture is especially nice with those two DHC DB2s at the back...

A photo from the backspotted on eBay:






DB3/3



DB3/3 is the least well-known DB3.
It was built as a works racer with 'standard' body and was damaged at Monaco in 1952, being involved in a multi car crash.
The tail was 'bobbed' (i.e. shortened to use a choppers' addict language) when repaired by famous Chapron 'carrossier' (see below)


Poor DB3/3 latter caught fire at Goodwood and was rebuilt. Among other races, it appeared in the 1953 'Mille Miglia'.
It was then sold to French driver Michel Poberejsky who ran under 'Myke Sparken' name (note : Myke,

not

Mike).
He had a gorgeous body made by Vignale. A DB3S engine powered this 'berlinetta' which was registrered 4375 CK 75 (in Paris).
Sparken raced at Casablanca with Salvadori in 1953, at Agadir and Dakar in 1954.
Sparken began racing with Ferraris and DB3/3 was sold to Mr Cerretti then Mr Boris (an helicopter maker) who kept on racing.
In 1956, DB3/3 appeared at Montlhéry with new owner Mr Prodiaz.
It is supposed to have been involved in a road accident later in the Bois de Boulogne and to have been scrapped (the engine being sold) because it was thought to be unrepairable.
What a pity when you consider this could well be the most beautiful 1950s Aston Martin wearing Italian clothes...

Photo below : 1953 12 hours of Casablanca : no 7 is the DB3 of the Whitehead brothers (that is DB3/10 of course) and no 8 is DB3/3 used by Roy Salvadori.

Here is the Vignale drawing you can notice the shape of the rear wing.
The side opening (in the front fenders) doesn't appear on the drawing.
More important, this is typically Aston but HERE IT PREDATES THE DB4 BY 5 YEARS !!!
THIS MAY WELL BE THE FIRST ASTON MARTIN WITH THIS SO TYPICAL TRADE MARK...


I have checked the wheelbase. DB3s have a 7'9'' wheelbase hence (7 × 12 + 9) × 25.4 = 2362.2 mm. That fits perfectly !

"Eagle eyed Jacques-Louis" found something VERY nice on a site about Agadir. Indeed in the forum, a lady put many photos taken during Agadir GPs in the 50s.

DB3/3 took part in 1954. Here is the grid:


DB3/3 is the dark 'berlinetta' at right. Here is a zoom:


I found my

cognoscente

! Fellow Alex sent me the info the same evening of the update!!!
He found some on Ferrari Chat.

DB3/3 body was put on a Ferrari 340 America in the late 50s. This car is 0196A.
Here are photos:


They come from this page. Here is a PDF:



I HADN'T REALISED THAT THE BONNET WAS SO LOOOOOOOOOONG !

Two more photos thanks to friend Alex...


I found in my Ferrari archives (yes, I have some...) that, recently, 0196A was restored to original condition and offered for sale by G. Fiskens.


The body was then put on a 212 Inter, chassis 0205 EL (ex Ghia convertible shown at Turin in 1952). Here it is:

DK Engineering (June 2007 photos)



Also some news from by Jacques-Louis about DB3/3...


As new (?), DB3/3 said to be bought by a Domini Feretti (?) with Poberewjsky

[written like that, note] ; delivered 10 December 1953. Wrongly "barquette sport" Vignale i.e. "barchetta". engine DP101/7 (of unknown whereabouts)
M.Sparken explained me that the problem was to find foreign currency. So wealthy buyers asked US officers or people from SHAPE (NATO commandment) based, I think, at Saint Germain en Laye.
Did Domini Feretti belong to one of those ?
No registration given for this car by "Majestic Automobiles" [French agent for Aston Martin, note]

, no red plate

[export, note], nothing whatsoever...




DB3/5



DB3/5 was built as a works racer with the 'standard' body and sold to Nigel Mann in 1954.
A FHC body was then fixed. The look is somewhat reminiscent of the DB3S but not as beautiful... See below.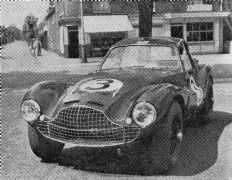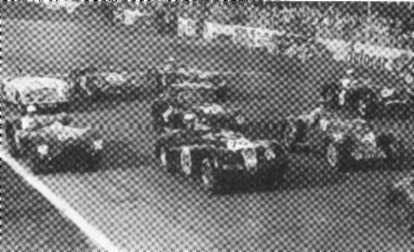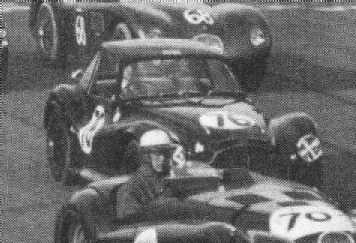 (source POST) (source VOL1) zoomed here...

At Hyeres in 1954:


One more photo thanks to

Alex

(source

Autocar

):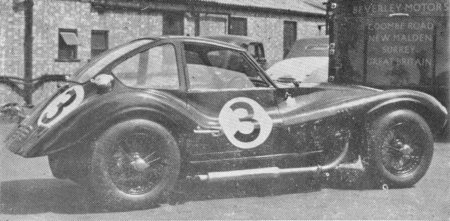 The top was chopped up somewhere in 1955 ! Two fins were grafted along with a headrest.
Note registration UPL 4 (below right).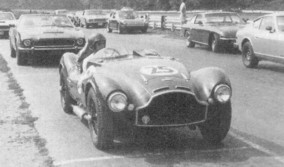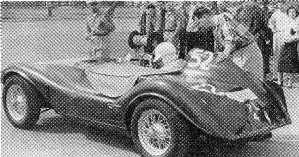 (source AM Magazine vol 20 no 80) (source FRO)

The grille was removed. Please note this grille was in three pieces. You can see this when you click on the first photo. Indeed it's clear when you see the larger photo.
Here are (cut) zooms (which can also be opened as larger photos by clicking) :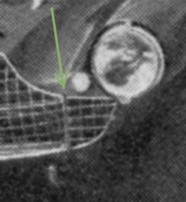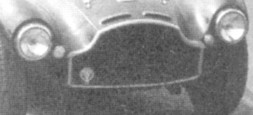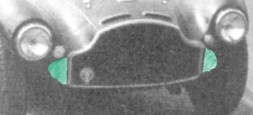 Green arrow added I have tried to modify the contrast and gamma on the photo in order to see the side holes
to see the link between remaining after removal of the side grilles. The border of the center hole has been painted.
the two grilles. On the right photo I put green colour where side holes are.

At Hyeres in 1955:



(Source : AMEC)


Friend Alex sent me the two following photos of DB3/5. They are of the Hong Kong period of this car (roughly 1958).
They are great and become

really

huge when you click on them ! Source is a Japanese magazine.



DB3/5 was rebuilt with a new body after a crash in 1982. In 1984, it received a twin-plug engine uprated to DB3S specs.

As seen at Lime Rock in 1983 (below left, thanks Alex):


August 1991

Classic and Sportscar

article:



It was for sale by Duncan Hamilton in 2005.





DB3/6



This car has had many engines and bodies !
Car was built in 1953 with a 'production' body and registered FHH 534.


Caption was: BOB DENNIS IN THE EMERYSON MODIFIED ASTON MARTIN DB3 WITH JAGUAR ENGINE. GOODWOOD 21-8-54.
So it also already had the Jaguar engine.

I previously wrote: In 1954 it received a gull-wing body along with a Jaguar C-type engine. It was then re-registered NV 64.
The original engine (DP/101/22) went to LML/50/9 (i.e. VMF 65) which retained it until 1955.

I was wrong ; the Jaguar engine was already there and the body was modified and not built from scratch.




Alex

strikes back!
He spotted the following photo (Goodwood, April 1955) in Chris HARVEY's book:



One more photo thanks to

Alex

: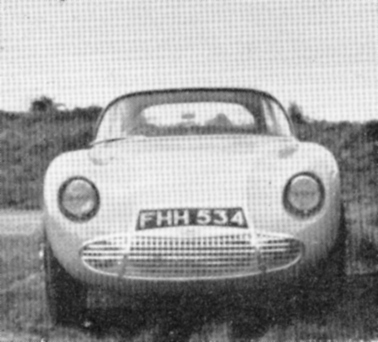 Very interesting : early registration. A newer body appears and two-tone colour is already here but lighter hue in centre...


Here are 5 other photos (source : eBay) with a new registration (NV 64).



conventional doors

on the above photos.


Only later did it receive the gull-wing ones with side alteration and a third headlamp as can be seen on the two following photos from Alex:


It was also re-registered 778 RPH.


In 1965, the special FHC body and DBR2/1 were swapped.
DB3/6 got engine DP/101/32 from DB3S/4 (in 1956 DB3S/4 had its engine DP/101/32 replaced by DP/101/30).

I am very much indebted to Alex who found me this very rare photo of DB3/6 so equipped...

In 1975, the FHC body was refitted !

In 1982, the engine DP/101/32 was sold.

In 1989, chassis less engine and body was sold by Christie's for £180,000. It was later completely rebuilt.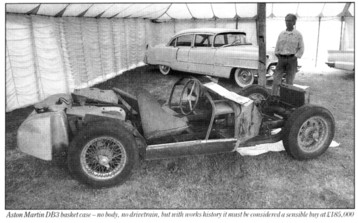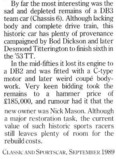 (source

Classic & Sportscar

magazine, September 1989)

Also in

Thoroughbred & Classic Cars

(October 1989):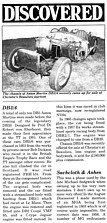 Finally in

la Vie de l'Auto

(issue 89/29):



In 2003, the gullwing body was sold by Christie's (once more and 14 years after the chassis !). On these photos, it appears much nicer than it was originally (fewer chrome and single colour

do

help !)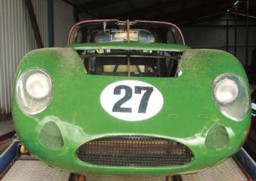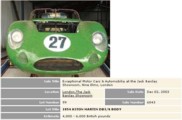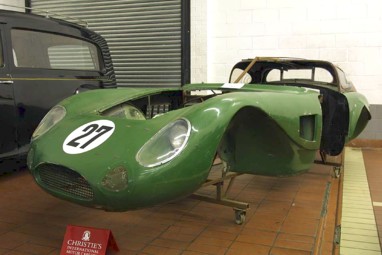 (source Christie's site) (source Motor Snippets)

And those from Alex :



It was recently for sale by Autosport Designs Inc :





DB3/7



DB3/7 has been built directly with a FHC body. First owner was Tom Meyer. In 1954 car was for sale by H.W. Motors (see below) and it was bought by Angela Brown (David Brown's daughter).

By the way, it is often said (and written...) that DB3/7 is a small car with a somewhat cramped interior because Angela Brown was petite.
But the car was definitely not built for her !

On the lighter side, Angela Brown was to marry George Abecassis of H.W.M. !



(source POST) (source HAR) (source POST)

Angela Brown had a new bonnet made with oval shape grille. Car was painted deep green.
She sold it in December 1955.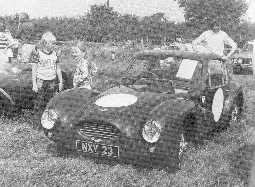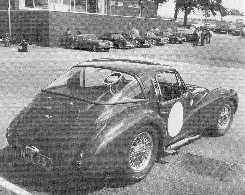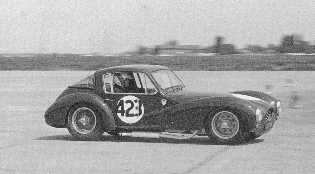 (source PBAM) (source PBAM) (source GUIDEF)

Those photos clearly show that the front fenders are higher than the bonnet ! That was not true on the first body style.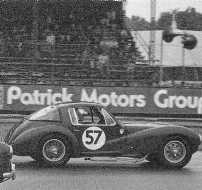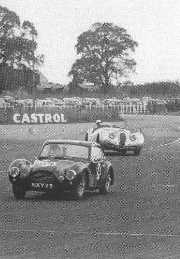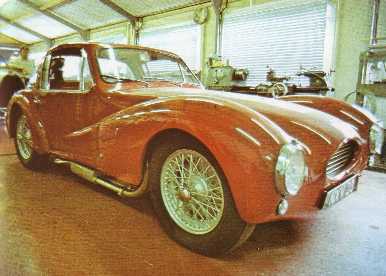 (source GUIDEF) (source VOL1) (source HAR)

DB3/7 was seen in red...(in the 70s it seems) It was later painted dark green again !

Two photos from Alex (first one found on eBay it seems...) :


I bought recently a copy of German magazine

Motor Klassik

(December 1989). They tried DB3/7. Here are some photos.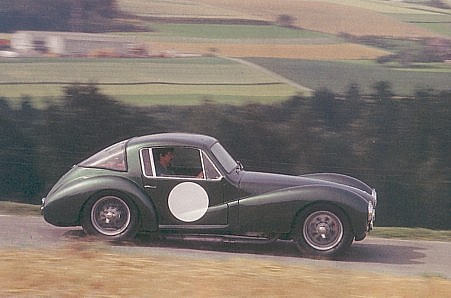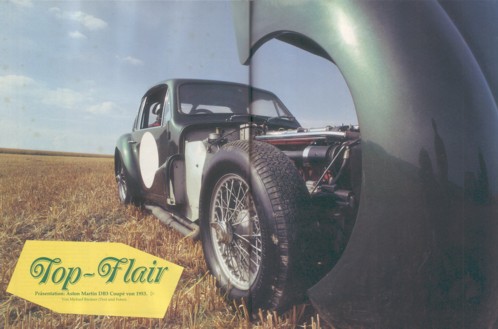 The bonnet line is well under front wings... flip front affair...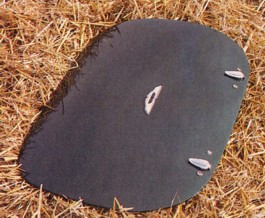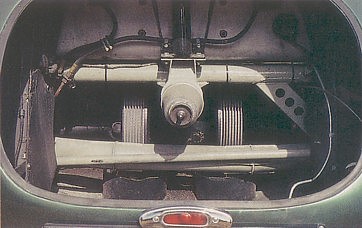 What do you think you can put in the boot ? ... Nothing ! Inboard drums already are here...

Here is the full article:


Lastly, three photos I bought some years ago... They were taken during Mille Miglia Storica.



Aston Martin Scrapbook
http://astonuts.free.fr



BACK