Aston Martin DB MkIII : DBMkIIIA, DBMkIIIB but also

DB2/4 MkIII

...



Note : all photos are clickable to see them in a much larger size.
all photos have a 'source' given. Please have a look at my bibliography to decode.



The Aston Martin DB MkIII is the last of the Feltham era. It's also the last evolution based on the DB2 body.

But back to the

precise

name of this car !

The precise name of this car is indeed a case of arguments among Aston Martin fans circles... as it is often said and written that this car MUST be called DB MkIII and that DB2/4 MkIII is a no-no. THIS IS NOT TRUE !

I read once that NO

COMMERCIAL

document EVER presented this car as a DB2/4 MkIII.
It seems that the name DB MkIII was chosen as a will of David Brown to show that this was a completely new car.
Of course, this is not true : the DB MkIII is the last evolution of the DB2/4 and thus the last evolution of the DB2.
Many journalists presented the car as a DB2/4 MkIII and also as "the [then] latest version of the DB2/4"
I have checked in Adrian M. Feather's red book (code 48-59) and here is what I found :

- in August 1957

Motor Trend

wrote about the " DB2-4 Mark III "

- in October 1957

Sports Car Illustrated

wrote " DB2/4 MK III " (with a capital K)

For every other article, " DB MkIII " was used.

In fact, it seems that the works itself used the DB2/4 MkIII denomination in the very early days of the car.
I found an official document with this name. It's not a works document but it's a works approved garage document !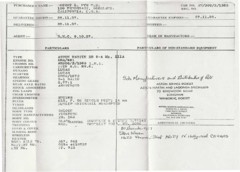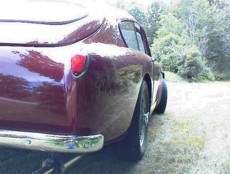 (source Don Rose website)

If you click on the left photo you can clearly see the designation of the car :






But on Don Rose website I also found this !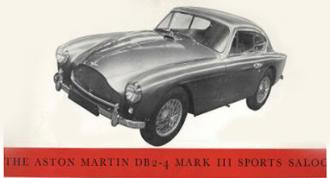 Here it is enlarged with focus made :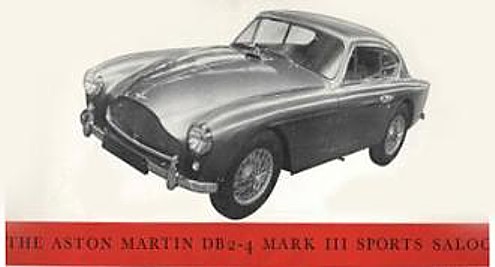 SO THIS IS A DB2-4 MARK III DESIGNATION ON A WORKS DOCUMENT !

To keep on the name theme, there are actually two series of the DB MkIII : the MkIII A and the MkIII B. I read twice with some ten years and different language between them that the first series was in fact the DB2/4 MkIII and the second one the DB MkIII but I am not really sure this is the exact breakdown.

MkIII A and MkIII B are works designations and even appear on some chassis plate.
A typical DB MkIII chassis number is AM300/3/1??? (ranging from 1301 to 1850 plus 1300 for the prototype).

There are about eight cars with AM300/3A/1??? chassis number.
In my archives (AMOC register) I have AM300/3A/1300 (prototype DP193), AM300/3A/1301 (sole RHD apart from prototype among the III As), AM300/3A/1307, AM300/3A/1313, AM300/3A/1316, AM300/3A/1317 and AM300/3A/1346. There are only seven. Eighth is AM300/3A/1314 which was LHD and sold in France (thank you JLB !).
Most of those cars went to the USA including AM300/3A/1316 and AM300/3A/1317 which were prepared for racing for Elisha Walker and Joe Lubin respectively.

UPDATE !!! AM300/3A/1325 with a DBC engine ! So they are NINE !
It should also be noted that the "A" is NOT stamped in the chassis number. It may well be an AMOC designation to retain the fact that an "A" appear on the chassis plate as "type DB 2/4 Mk IIIA".

Here is the story of AM300/3A/1317. Text and photos : source Racing Felthams magazine (issue number 9, spring 2007).
Those PDF files magazines are an abolute must !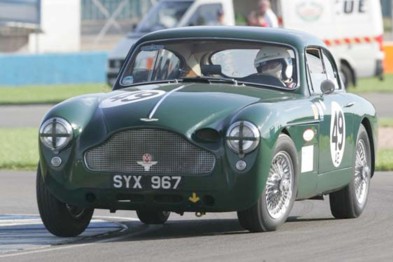 George Constantine 1st in class, 2nd overall in the Tourist Gross completes his 25th racing season with a 1st in class, 3rd overall
Trophy race,Nassau 1958 at Donington to win the AMOC UBS Aston Martin Championship 2006



SYX 967 (AM 300/3A/1317) is an early DB MkIII that was destined for the USA in 1957 being 1 of 2 that were prepared for GT racing. The first owner, Elisha Walker Jr. was an avid Aston owner who campaigned the car with his experienced driver George Constantine at the wheel throughout the States in 1957 and 1958. This included the Sebring 12 hour race as a Works entry, Nassau Speed Weeks and many other events. 1317 was back at Sebring again in 1959 (sadly, another dnf) before moving to a new owner in California for more racing and concours – Pebble Beach in 1963, '64 and '66.




In 1975 the car was purchased by Richard Gross with the help of family friend Rex Woodgate, then supremo for Aston Martin's American operation... Rex had been the chief mechanic/team manager for Elisha Walker so knew the MkIII well. Richard raced the car in US historic events until 1982 when son, Jon continued racing the car in the UK and Europe.




Jon Gross has been competing continually with the LHD MkIII since then and this year in its 25th season of AMOC events has won the UBS Aston Martin Championship for the second time.




Major results have been achieved in events such as the Tour Auto (4 times), Goodwood Revival (twice), Gentleman Drivers series, Coys, Silverstone Classic as well as AMOC hillclimbs and sprints...




The specification of the car today is exactly as prepared by the Factory for Sebring (production GT category) which is standard 2922cc block, standard crank, steel head, 3S production cams, 3 x 40 mm Webers, alloy CR calipers, Alfins, 40 gallon fuel tank, Borrani wheels and quick lift jacking points.




The only performance modifications since new are a racing seat, an LSD, a modern (Aston) clutch, fuel pump and brake pads. The car is fully trimmed and recently tipped the scales after a race at 1298 kilos.




Following on from father Rex, Chris Woodgate and his team at Silverstone have been responsible for all the major components on the Mk III and have been a great help to Jon and enthusiastic supporters, carrying on the two families' racing tradition.



Two other photos found on a French forum: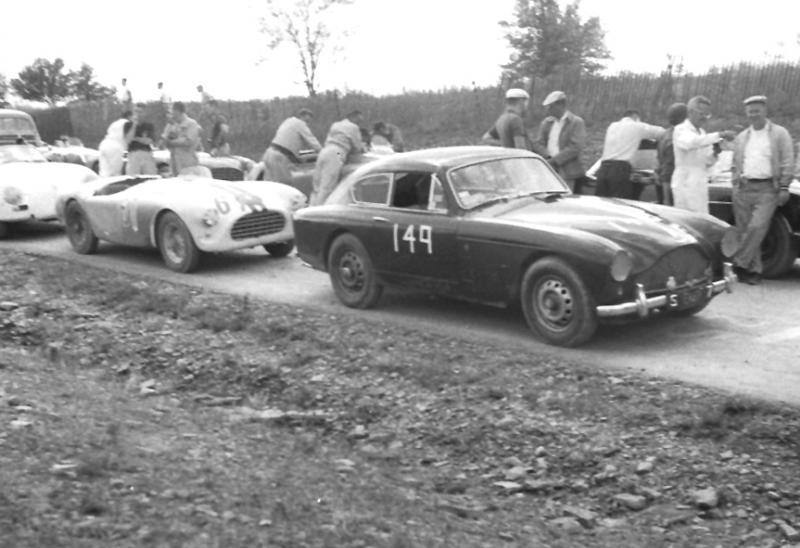 Watkins Glen 1957 (I think the photo is from SCCA)
Note special wheels (Dunlop ?) and blanked off headlamps.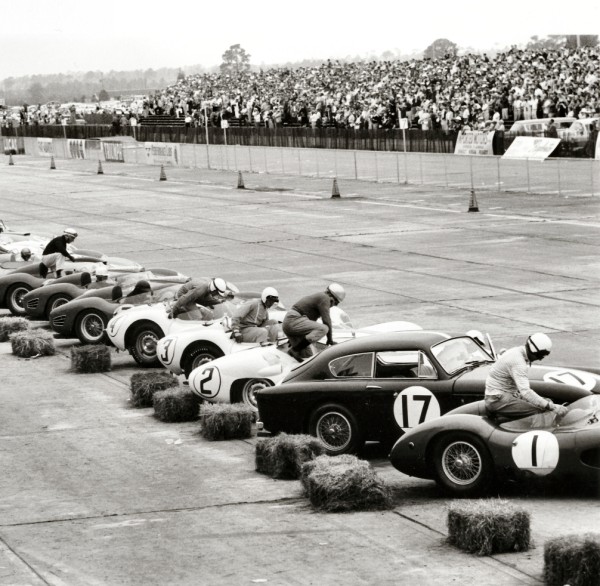 Sebring 1959


There are only two DB MkIII with the III B indication in their chassis number (or plate) : they are AM300/3B/1401 (the first and the prototype under MP197P name) and AM300/3/1406 which has "Mark IIIB" on its chassis plate.

The first 100 DB MkIIIs are III As and the following 450 are III Bs. They can easilly be distinguished as the III A kept the small rear tail lights of the DB2/4 MkII whereas the III B used new vertical ones (the so-called "cathedral" type) which were also later used on the DB4 (series one and two)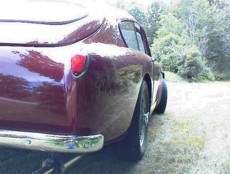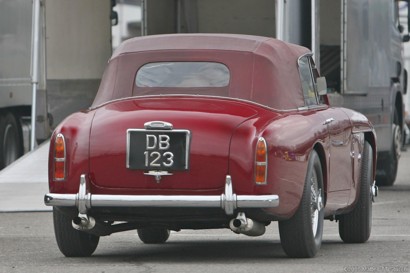 MkIII A rear taillights rear taillights on a MkIII B DHC
(source Don Rose website) (source Supercars.net)


In fact, what's really puzzling is that,

from the start

, Aston Martin used the III A name clearly showing there were changes to come. So maybe we should have a technical point of view : the disc brakes were introduced on production models with the DB MkIII.

DB3S/1 was the first Aston with disc brakes : those were Lockheed (at front) for 1954 Silverstone.
A DB2/4 (chassis LML/855) tested Girling front disc brakes in 1956. You must have recognized 56 DMF, a works car which did the Monte Carlo Rally in 1955 as well as the Mille Miglia among other great races...
The prototype DB MkIII (code DP 163), based on a modified DB2/4 MkII had disc brakes all round but on the III As, disc brakes were only available at the front and were optional ! You had to wait for the III B to see it became standard.

Only later on the DB4, Aston Martin put four disc brakes on its production cars. This time, they came from Dunlop and proved quite succesful as proved by the 0-100-0 which took under 20 seconds with a DB4 GT. This gorgeous machine (the best looking Aston Martin ever ?) was indeed the first to be able to do that !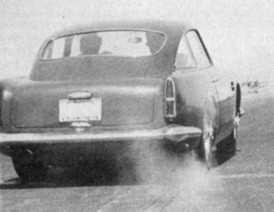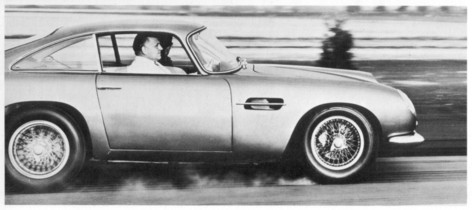 A DB4 GT storms away (0-60 in 6.4 sec)... and stops well also thanks to four discs !
(source 48-59) (source RAS)

Those photos have nothing to do with the DB2/4 MkIIIs but they are so nice I couldn't resist...


Aston Martin Scrapbook
http://astonuts.free.fr



BACK